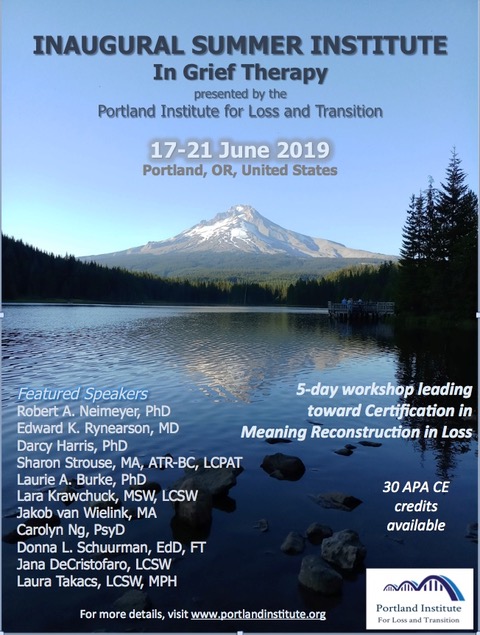 Dear colleague,
It is our great pleasure to share with you that our Inaugural Summer Institute will be happening on
June 17-21, 2019 in Portland, OR, USA.
This week-long immersion in experiential workshops is designed to add conceptual clarity, hone
process expertise, and especially give participants practical tools to enhance their practice of grief
therapy and bereavement support with a broad range of clients across many contexts of clinical
practice. Whether you register for one day, five days, or something in between, you will benefit from
collaborative learning in a setting that fosters small group practice and close interaction with some of
the field's leading trainers.
Come join us for an international, interdisciplinary Institute that offers a new meaning-oriented model
of training in bereavement care. For more details about Portland Summer Institute, just click this link
www.portlandinstitute.org and scroll down the home page to the convenient link. For the best user
experience and for greater ease of navigation, we recommend accessing the site via laptop rather
than phone.
Catch the Early Bird rate at US$875 for all 5 days or US$185 for a Day Pass on your preferred
day(s) by registering before the April 30 deadline.
Should you require any further information, please feel free to contact us. We would respond to you
as soon as possible.
For more information, click https://www.portlandinstitute.org/grief-counseling-training-lp
Thank you and hope to see you there!
Robert Neimeyer, PhD, Director
Portland Institute for Loss and Transition
email: neimeyer@portlandinstitute.org
website: www.portlandinstitute.org
Carolyn Ng, PsyD, FT, Associate Director
Portland Institute for Loss and Transition
carolyn@portlandinstitute.org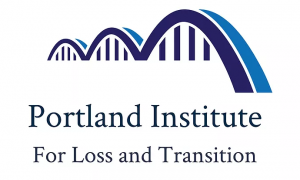 The Portland Institute for Loss and Transition is dedicated to providing quality training and Certification in Meaning Reconstruction in Loss. Explore the other pages on this site to learn more, and check out Robert Neimeyer's personal website robertneimeyerphd.com for the latest scholarly and professional publications on a  Meaning Reconstruction approach to grief.