Editor's note: we are reprinting this post in honor of all who have served their country, veterans and those currently serving.
Dear Dr. Neimeyer,
My partner committed suicide in front of me last February. He asked me to hold his hand. I always promised I'd be there for him, regardless. But this was something I couldn't imagine.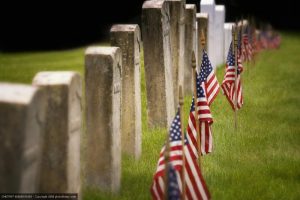 Because we lived in the South, and his family in the Northeast, we were on our own. I called his family for support two weeks prior to his death, as they never visited, only to get excuses why they couldn't come down; I even offered to pay for the travel. It didn't happen.
After the death, because we'd never had a Civil Union, I was treated no better than a roommate or friend. His mom, during our ten years, referred to me as her "adopted son" and often stated I was the best thing to ever happen to him, but gave me no recognition as his spouse, although, throughout his suffering, I was the only one there for him, ever. Yet now, I didn't mean anything to anyone. The police couldn't even talk to me.
I've lost my job, lost our house and had to give away most of our belongings as I couldn't stay in the South financially, and had to move north to stay with family until I figure out what I'm supposed to do with my life.
On top of it all, as I am a Veteran, the VA is my health provider and have offered minimal help: I've talked to ten people from the VA, explaining in full the details of my situation. It seems that if you're not suicidal, they're very lax about helping you.
I can't stay with the family forever, but draw a complete blank when I try to think if starting my life from scratch. I'm afraid to get involved with someone new in case they die. Life without love is existing, how do you overcome the fear of loss?
Brad
Dear Brad,
Your story sadly illustrates how the death of a loved one can bring with it a cascade of losses, some visible to the world, and others invisible.  In particular, it summons up the idea of disenfranchised grief, a concept formulated by my friend and colleague Ken Doka to describe a response to bereavement that is unrecognized, unsanctioned, without broad social acknowledgement and support.  Originally offered as a description of social responses to the death of an ex-partner following divorce, disenfranchised grief is if anything even more acutely relevant and anguishing in a case like yours, where a committed same sex partnership of years may be dismissed as irrelevant by authorities, caregivers, and even the deceased partner's family.  The result is a kind of double loss:  first of a man you deeply loved, and the second of even the social, legal and economic status of being his survivor.  As you tragically note, this can set in motion a litany of losses (of home, income, social networks) that deepen the original wound, massive as it is, and militate against healing.
In your case all of this is further compounded–and perhaps partly caused–by the traumatic nature of your partner's death by suicide, a manner of dying that remains stigmatized, often horrific, and commonly associated with social avoidance at best and social blaming at worst.  As survivors at different geographic and emotional distances from the deceased struggle with the question of why he died as he did, it is all too tempting to attribute responsibility to those who were closest to him–in this case, perhaps to you.  At a time when you yourself must be struggling with many questions–Why did he end his life so suddenly and violently?  Who am I now in the shadow of this loss?–you are also likely struggling to manage the sights, sounds and sensations associated with the scene of the death, and your helplessness to avert it.  In addition, you are trying to sort out what this means for your attachments to others, including potentially other romantic partners.  This is difficult emotional work in the best of circumstances, and your uprootedness and relative isolation surely make it more difficult still.
So, what to do as you pick up the pieces of a life shattered by disenfranchised, traumatic loss?  First and most basically, seek others who can stand with you in the pain and complexity, without recoiling or blaming.  Might there be a gay men's grief support group available to you, in your community or online?  Friends or family who would draw close in compassion, rather than distance in disdain?  Second, find a good therapist, one who respects same sex partnerships, and is familiar with trauma interventions and grief therapy.  The surest cure for disenfranchisement is to rebuild a social (and professional) network that acknowledges the gravity of your loss and is willing to join you in finding new direction through it.  If the VA doesn't provide that–and as a care system more oriented toward dealing with the wounds of war and deployment than those inflicted by suicide, it may not–look elsewhere, including at resources offered by the American Foundation for Suicide Prevention and the Association for Death Education and Counseling.  As you say, life without love is merely existing, and you deserve the recognition of and support for your loss that would once again allow you to move toward living and loving fully, even beyond this trauma.
–Dr. Neimeyer
Every Wednesday we will be publishing Pandemic Weekly for, we hope, not too long. We invite you to submit your thoughts, essays, poems or songs. Please send to info@aftertalk.com.